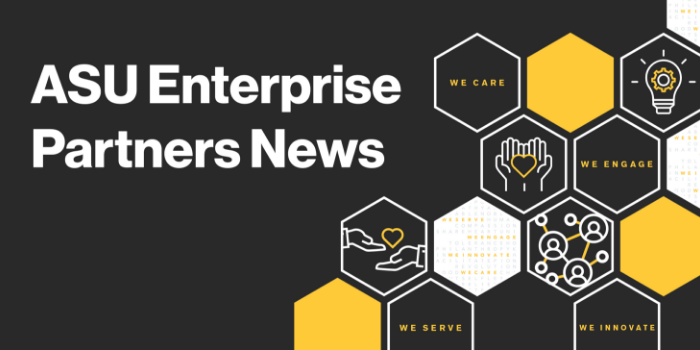 ASU Enterprise Partners creates significant resources for ASU during first half of fiscal year 2023
ASU Enterprise Partners achieved several milestones in the first half of fiscal year 2023, all of which helped Arizona State University advance its charter and assist students and faculty. Here are some of the ways our business units and centers of excellence created solutions and generated resources to advance research, increase student access and success and enrich communities.
By the numbers
July 1 – December 31, 2022




Generating resources for students and faculty

Donor's generosity aims to increase global learning experiences for sustainability
Solving global issues like water scarcity, climate change and affordable energy require a global perspective and international cooperation.
ASU has empowered its students to understand and tackle these challenges through travel abroad to learn about global sustainability elsewhere. An expansion to an existing scholarship program through the ASU Foundation means more ASU students can participate.
The Rob Melnick Sustainability Scholarship was initially established in 2018 by Julie Ann Wrigley and ASU President Michael M. Crow in recognition of Melnick's contribution to the development of the Julie Ann Wrigley Global Institute of Sustainability and the School of Sustainability at Arizona State University.
The scholarship was recently given a generous gift by Richard Morrison, enabling two students – one undergraduate and one graduate – to receive the scholarship annually to explore sustainability science and practice in international settings.
"The opportunity to conduct research or further an education overseas can be life-changing and heavily influence career trajectory," Morrison said. "This scholarship is intended to create more opportunities and empower recipients to tackle our most pressing sustainability challenges with a global perspective."
Richard Morrison and the Morrison family are longtime supporters of numerous programs at ASU, including the Morrison Institute for Public Policy, Morrison School of Agribusiness and Morrison-Neely Food and Sustainability Agriculture Research Grants. By adding the Rob Melnick Sustainability Scholarship to this list, Richard continues his legacy of philanthropy to ASU that benefits students and helps ensure the future well-being of our state and planet.
» View our enhanced website for more gift stories

Real estate gifts offer student enrichment opportunities
University Realty continues to partner with the real estate community and ASU Foundation fundraisers to garner gifts of real estate, which creates a win-win for donors and ASU.
Individuals looking to retire, downsize or simplify their lives have an opportunity to donate real estate that can support ASU scholarships and research, depending on the donors' preferences.
"Donors may qualify for an income tax charitable deduction equal to the property's full fair market value and eliminate capital gains tax on its appreciation. In addition, they can reduce their taxable estate," said Brad Grannis, director of real estate assets for University Realty.
When Thelma Wolff donated her Pinetop, Arizona, vacation home to the ASU Foundation in 2017, she established a legacy for ASU students to learn through international travel as she did by establishing the endowed Thelma G. Wolff International Scholarship. Since inception, the scholarship has enabled students to study in the Netherlands, the Czech Republic, England, Greece and Spain.
Real estate gifts can include primary residences, vacation homes, office buildings, ranches, industrial property and undeveloped land. There are several giving options available to donors, including outright gifts, bargain sales and various donations through various trusts.
» Learn more about the benefits of real estate gifts

Skysong Innovations expertise helps technologies to make lithium batteries firesafe
An ASU startup that licensed breakthrough fire-safe lithium battery technology received a funding boost to further validate its research.
Safe-Li, the startup that holds the exclusive license to commercialize the battery technology from Skysong Innovations, was accepted into Shell's GameChanger Program and awarded $300,000 in seed funding.
The grant will be used to further research with ASU Regents' Professor Jerry Lin's technology and validate it as a coin cell battery, like what is used in key fobs. Once the science is validated on a coin cell battery, Safe-Li can begin validation on a multilayer pouch battery and seek out co-innovation partners from battery manufacturers.
Lin, inventor of the technologies, a chemical engineering professor at ASU and chief scientist for Safe-Li, developed the patent-pending technology that is expected to revolutionize the battery industry and make them safer. He created a unique coating method that will add a step to current battery manufacturing to make the batteries firesafe.
"Lithium-ion batteries have become the energy storage media of choice in modern consumer electronic devices, electric drivetrain vehicles, commercial power tools and grid storage," Lin said. "However, multiple incidents of fire hazards and explosions have raised concerns related to the safety of the current and next-generation lithium-ion battery systems. Our technology, once scaled up, will enable fabrication of fire-safe, high-performance lithium-ion batteries for various energy storage applications.
Lin added that the platform technology Safe-Li is developing can be extended to make lithium-metal batteries with higher energy density, which will have a large impact on developing long-range batteries for electrical vehicles.
Skysong Innovations, ASU's exclusive technology transfer and intellectual property management organization, helps translate research like Lin's into impact by protecting the intellectual property developed in ASU labs and negotiating licensing deals with commercial partners life Safe-Li to advance the patented technologies and develop solutions for society.
» Learn about some of the patents issued

RealmSpark advances ed-tech firms to scale access to education, improve learner outcomes
RealmSpark helped educational technology startups address some of the largest challenges facing higher education today while boosting revenue for ASU Enterprise Partners.
RealmSpark partners with and funds companies that are scaling access to education and improving learner outcomes.
"It's not enough to say we aim to provide high-quality educational resources without also addressing the student success piece of the equation," said Sam Bradley, managing director of RealmSpark.
These companies are deemed successful when they fulfill the mission of addressing higher education obstacles and provide a financial return to ASU Enterprise Partners in the form of a successful investment exit.
The RealmSpark team had three companies successfully exit the program in the past year with significant return-on-investment multiples.
When these companies succeed, it also benefits ASU in the form of new enrollment and student retention.
ASU Enterprise Partners began investing in education technology companies in 2016 and has had five companies successfully exit the portfolio since inception. There are 26 active companies.
RealmSpark's InvestU program helps ASU-affiliated companies go beyond the university and have real world impact by linking these growth-oriented startups to early-stage funding through an angel investor network.
» Ed-tech companies improving learner outcomes at ASU

ASURE selected to solve military challenges
ASURE was added to a contract that could total as much as $85 million to provide expertise in applied research and advanced technology development to meet the U.S. Special Operations Command's scientific and engineering needs.
ASURE is working with the Institute of Applied Engineering at the University of South Florida on this project, which is scheduled to conclude in February 2025.
"We are excited to be granted access to this amazing program and the mission it supports," said Ron "RT" Thompson, managing director of ASURE. "Getting the opportunity to bring some of ASU's best researchers to the table to help solve some of Special Operations Command's toughest problems is very compelling and humbling, especially since these types of programs can have a significant impact to national security. Our entire team is proud to contribute to this effort."
ASURE is a nonprofit entity that partners with ASU to extend the university's reach and ability to conduct restricted-access research and development.
ASURE provides access to high-level national security research and other programs beyond ASU's native capability, which gives faculty access to contracting opportunities with local, state, and federal agencies such as the Department of Defense.
» Learn more about ASURE's work

Space exploration is possible through rideshare program to share costs, resources
The Milo Space Science Institute is a nonprofit research collaborative led by Arizona State University with support from Lockheed Martin. Milo's primary objectives are to increase access to space exploration, build up local space science ecosystems, and develop the next generation of space science investigators.
"Milo makes space science and exploration accessible to countries around the world that want to increase their knowledge, infrastructure, and human capital and participate more deeply in the growing global space economy," said David Thomas, executive director of Milo. "We have formal relationships with the United Kingdom, Canada and Ecuador, and we're talking with several other countries who are interested in our innovative model."
Milo works with government agencies, universities and space industry experts around the world, and has memorandums of understanding with 50 organizations in 29 countries.
The space economy is projected to grow to $1.5 trillion by 2040 and thousands of people need to be trained to service the space market. Milo provides programs designed to develop the space workforce and encourages space commerce in its partners' regions. In addition to building capacity for space exploration, these programs improve the socioeconomic health of the communities in which Milo serves.
Milo is currently working on collaborations with international partners that are interested in deploying payloads to the surface of the moon on Lockheed Martin's Lunar Mobility Vehicle through a rideshare mission. The payload container will be subdivided into different units like a condo structure that will be sold to individual countries. ASU will do the integration, testing and mission operations.
» Learn more about Milo's space expertise

ASU Outreach Hub will transform marketing and engagement with donors, students and alumni
ASU Enterprise Partners added a new business unit over the summer to strengthen and expand ASU's marketing and outreach efforts.
The Outreach Hub supports the outreach and transactional needs of the ASU public enterprise using data-driven insights, collaborative approaches and multifaceted outreach techniques to design marketing and engagement solutions that advance the enterprise and strengthen the ASU brand.
The Outreach Hub specializes in three areas: paid media outreach, alumni and donor outreach and targeted corporate outreach. It provides consultation, tools, training and guidelines to the ASU marketing community to support their outreach efforts.
The organization oversees all marketing for ASU Enterprise Partners and its business units.